Banner
For a banner, you can upload a jpg/png image or a GIF animation.
The recommended size is 700*700 pixels for optimal display on different device screens.
The maximum size is 5 megabytes.
After uploading the banner, you need to set the ad countdown timer in the range between 0 and 60 seconds.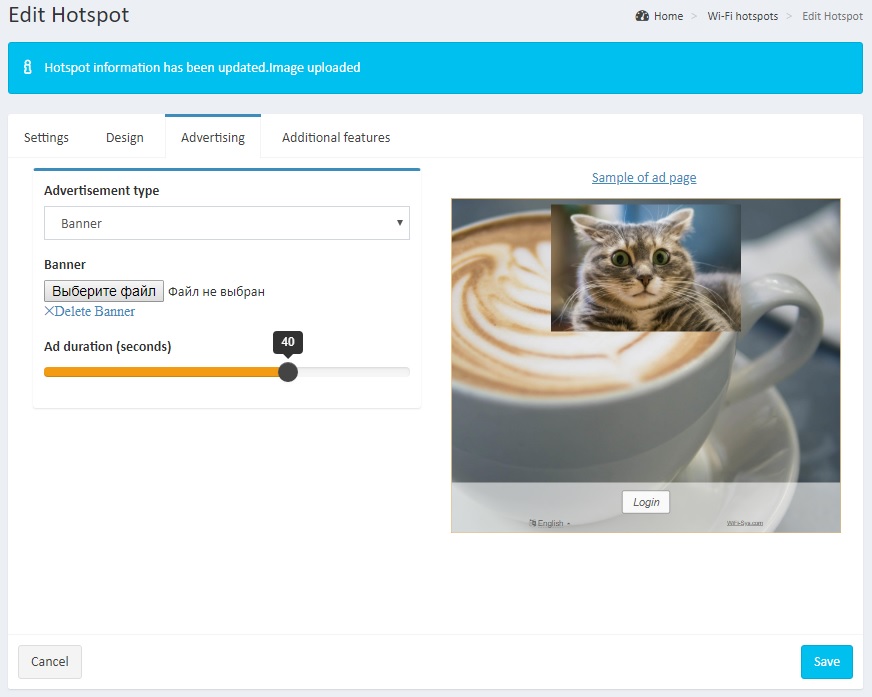 Video
You can use an already uploaded YouTube video as a video ad.
In the settings, you need to enter the ID of that YouTube video.
How do I get the YouTube video ID? You can copy it directly from the address bar of your browser.
For example, the ID of the video https://www.youtube.com/watch?v=4Ys5cudqDi4 is 4Ys5cudqDi4
Then on the hardware, you need to add to the Walled Garden the subnet of the YouTube hosting, where the video is placed.
The main subnets used by YouTube are:
64.18.0.0/20, 64.233.160.0/19, 66.102.0.0/20, 66.249.80.0/20, 72.14.192.0/18, 74.125.0.0/16, 172.217.0.0/16, 173.194.0.0/16, 207.126.144.0/20, 209.85.128.0/17, 216.58.208.0/20, 216.239.32.0/19
If the video cannot be displayed, it is most likely that it is in a different subnet. If this is the case, please contact us and we will help you find and add the right address.
Custom HTML page
You can create a separate fully-featured advertising page on your site or domain and connect it.
All the links pointing to the JS and CSS connected on your page and images must have absolute paths.
In the settings, specify the URL of your page with ads, starting with http://
Set the ad countdown timer in the range of 0 to 60 seconds.
In the Walled Garden hotspot, add the IP address and DNS name of your site.