In your Personal Area, you can now be able to add several users with different access rights.
Additional items are added to the menu of the Personal Area.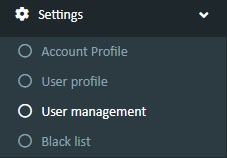 Account Profile – here you need to fill out an account profile with information and enter your phone number. In this section, you can also enable a system that notifies you of any change in hotspot status, low balance, invoices and reports. You also have the API key here.
User profile – in this section, you can change the Email/Username and Password, set your time zone, name and contact phone number.
User management – the section is used to add, edit and delete users tied to the account.
At the moment there are 3 access levels.
Administrator
By default, the user who registered the account is the main administrator. This profile cannot be deleted.
However, additional users added with administrative rights can be removed from the system in the future.
The administrator has an expanded control panel: he has access to hotspots, hotspot settings and various documentations.
Besides, the administrator operates Premium access.
The administrator has all the features of other users.

Marketing specialist
This user has access to all data for marketing research: surveys, statistics on media statistics, authentication, SMS and call reports.
He can upload this data in excel or csv format.
In addition, a marketing specialist has manager privileges.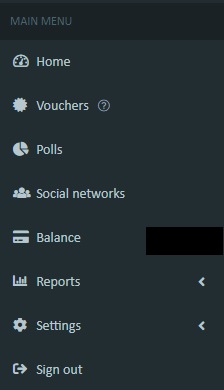 Manager
The user primarily works with vouchers.
He can create, view, print and upload vouchers.
It is usually used by the manager at a hotel reception.